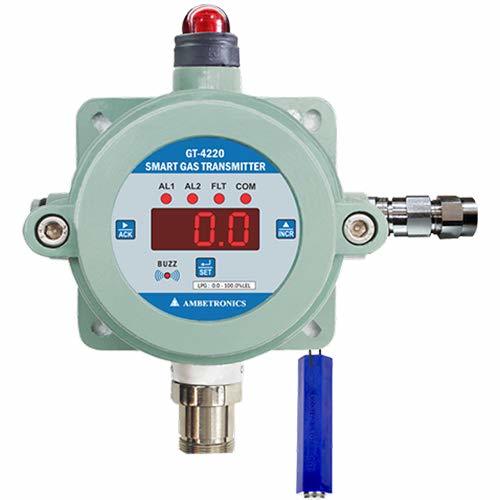 Addressable LPG Gas Leak Detectors
Product Description
Addressable LPG Gas Leakage Detectors

LPG Gas Leakage Detector, GT-4110-FLP from Ambetronics Engineers Pvt. Ltd. is a better version of conventional type of PNG / LPG Gas detector. This application based product is designed to be used in commercial & industrial canteens, restaurants, cafes, hotels and resorts to meet the safety norms issued by government related to fire hazards in kitchen areas. One must install Addressable LPG gas leakage detector to safeguard people and asset from unforeseen fire hazards. This detecting system can detect leakage of LPG /PNG / combustible gases. Apart from using this gas leakage detecting system in kitchen, it can be used in gas banks and gas storage yards. This is micro controller based gas leakage detecting system which is provided in flameproof enclosure tested by CCOE/ PESO.


Salient features

The LPG leak detector has a single wired series connection loop.
A localized Relay Module connection within the series loop is for alarm indication.
It can be provided with a provision to automatically shut off the flow of gas through main pipeline at the event of gas leak alert.
From 0 to 100% LEL is the range of LPG/ PNG Gas leak detection.
Customers can opt for remote monitoring feature, which allow monitory through wireless devices and cloud platform.
It must be installed in hazardous areas to detect LPG / PNG group of gases.
Trade Information
PESO / CMRI Tested Enclosures.