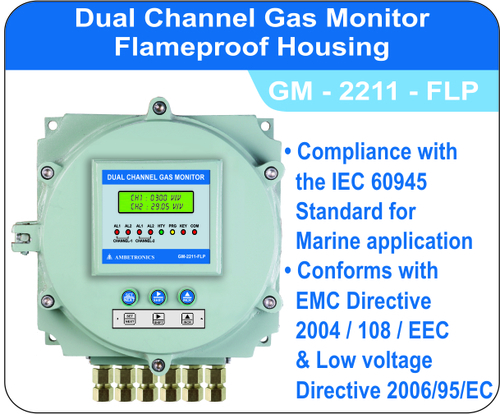 Product Description
To give 100% assurance to the clients, we are engaged in manufacturing and supplying of an exclusive range of Dual Channel Gas Monitor. These monitors are used for detecting leakage of hazardous gases in various oil & gas plants and power stations. The monitors is simply a micro controller based system, provides accurate and reliable result. At our production unit, we manufacture the monitor using high quality material. We offer the Dual Channel Gas Monitor at the cost effective prices.
FEATURES:

Two Independent Display For Any Two Gas Detector Selected By User.
Micro controller Based Latest, Accurate, Reliable & High Performance Technology That Eliminates False Alarm.
Long Term Stability.
Advance Warning & Alarm Output.
Audiovisual Gas Leakage Indication.
Easy One Man Calibration At Site.
One Individual Alarm Relay Contact Separate For Each Channel.
Wall Mounted Design, Easy Installation At Site.
Suitable In Hazardous Area CCOE, CMRI & IP-65 Approved.
Password Protected Programming With Password Changing Facility

APPLICATIONS:

Pulp & Paper Plants
Chemical & Petrochemical Plants
Acid Alkalizes & Dyes Mfg. Plants
Chemical Processing Plant
Offshore Drilling & Processing Platforms
Refineries
Stack Monitoring
Chemical Storage Area
Automotive Industries
Hotel Industries
Gas Cylinder Bank
Burner / Furnace Areas
Heat Treatment Plants
Paint Shop
Sewage Plants
Fertilizers Plants
Power & Industrial Plants
Gas Metering Stations
Bullet Yard / Storage Yards
Oil and Gas industries
Coal Mine and Confined Areas
Gas Pipeline Projects

Features :
Display of Gas Concentration along with its Unit & Gas Name for both Channels.
Micro controller Based Latest, Accurate, Reliable & High Performance Technology that Eliminates False Alarm.
Advance Warming & Alarm Output.
Audio Visual Alarm Indication
Two Independent Alarm Relay Output.
Optional programmable Voltage & Current Output with Configurable Range.
Easy Handling & programming with 3 keys.
Can be programmed using Remote Control from 10 meter in line of site distance.
Password protected programming menu.
Optional Isolated RS - 485 Communication Port with Modbus RTU Protocol.
Approval & Compliance :
Approvals: Compliance for Flameproof Certified to Ex-d IIA, IIB, T6, IP66
Standard Compliance :
IS/IEC 60079-0 : 2004
IS/IEC 60079-1 : 2007
IS/IEC 60529 : 2001
Compliance with the IEC 60945 Standard for Marine application
Technical Specifications :
General
Input

2 Channel x 4 to 20mA output from Oxygen / Toxic / Combustible Gas Transmitter.

Range

0 to 9999 in unit PPM or % LEL or %, V/V Programmable by user.

Display

16 x 2 Alphanumeric LCD / OLED with auto Backlit option for LCD Display.

8 LEDs to indicate status of instrument

Control Action

Two independent Alarm Set Points with Latch & Non-Latch facility for each Channel independently.

User selectable Hysteresis & Logic option.

Common Fail Safe Relay for both the channels

Setting

By 3 Keys on front panel for WP/FLP Model

By using Remote Control (Optional)
Performance

Measurement Accuracy

± 0.25% of full-scale for Gas Monitor

Response Time

500m Sec typical

Start-up Time

Approx 30 Seconds.

Electrical

Power Supply

90 to 270 VAC; ±20%, 50Hz, Typically 230VAC

Power Consumption

Less than 5 Watt.

Connection

3 Wires (1.5 mm2) Flexible or Armoured Shielded Cable.
Weatherproof Housing

| | |
| --- | --- |
| Protection Class | IP-65 |
| Cabinet Material | Polycarbonate, grey colour |
| Cable Entry | Thermoplastic cable gland (IP 68) |
| Dimension | 215 mm (H) x 240 mm (W) x 115 mm (D) |
| Mounting | Wall Mounting / Stand Mounting |
| Weight | Approx 2.0 Kg. |
Error Monitoring
During Sensor break / open, Display shows Sensor Open & Output Signal gets as per the Up scale / Down scale selection.
During Under Range, Display shows Under Range & Output Signal gets as per the Up scale / Down scale selection.
During Over Range, Display shows Over Range & Output Signal gets as per the Up scale / Down scale selection.
Down Scale Output Signal= 0mA / 0VDC.
Up Scale Output Signal = 21mA / 5.5VDC / 10.5VDC.
Environmental
Operating Temperature : -15 to +550C
Humidity
Less than 95% Non-Condensing.
EMI-EMC compatibility
Output Signal
| | |
| --- | --- |
| Standard | It has five No. relays (One for Failsafe & Two no. for Alarm Indication for each Channel) of rating 120VAC / 2A, 24VDC/2A. |
| Optional | Isolated 0-20mA / 4-20mA / 0-5VDC / 0-10VDC Output selectable proportional to Gas Concentration with programmable Range. |
| Optional | Isolated RS - 485 Communication Port with Modbus RTU Protocol |
Accessories (Optional)
CE certified 24 VDC Power supply.
Canopy & Mounting stand.
Gas Calibration Kit (0.5,1, 3,10)Liter.
Hooter Cum Flasher.
Toxic / Combustible Gas Transmitter
Gas Sampling & Conditioning System.
RS-485 to USB OR RS-232 convertor
PC Based SCADA Software, Modem
Flameproof Housing
| | |
| --- | --- |
| Protection Class | IP-65 for Gas Gr.IIA & IIB, CMRI approved enclosure & CCOE |
| Cabinet Material | Cast Aluminium alloy, LM-6 |
| Cable Entry | Double Compression, 3/4" ET-Type. |
| Dimension | 285 mm (H) x 265 mm (W) x 170 mm (D) |
| Mounting | Wall Mounting / Stand Mounting |
| Weight | Approx 6 Kg. |