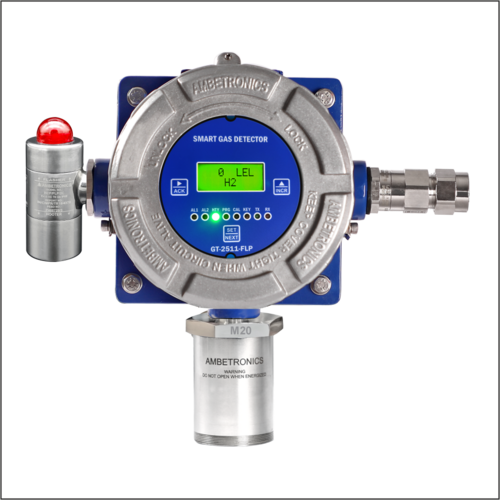 Gas Detector
Product Code : GT-2511-FLP
Price And Quantity
Minimum Order Quantity

:

1
Unit of Measure

:

Piece/Pieces
Product Specifications
Usage

:

Industiral
Power Supply

:

18 to 36 VDC, Typically 24 VDC, derived from SCU for fail safe operation.
Power Consumption

:

3.6 Watt max at 24 VDC Watt (W)
Accuracy

:

± 5% of Full Scale Range (Sensor, Signal conditioning unit & Display Unit all Combined) mm
Size

:

185 (H) x 215 (W) x 125 ( D) in mm.
Weight

:

Approx 2 Kilograms (kg)
Product Description
Gas Detector
A gas detector is a safety tool that detects the gases presence in any area to ensure complete security against any gas leakage and fire. This has become an essential device to detect the leakage of any combustible material, flammable gases, toxic gases, oxygen depletion or any other emissions that can connect with a control system to automatically shut down the process. This can sound an alarm to make the operators aware in the area about the gas leakage and allowing them to evacuate the place before any mishap take place. It is widely used in oil rigs and other places to observe the manufacturing processes as well as emerging technologies like photovoltaic. It can also be used in firefighting.
Approval & Compliance
Approval & Compliance for Flameproof :
Certified to Ex-d IIA, IIB, IIC, T6, IP66 Compliance with :
IS/IEC 60079-0 : 2004
IS/IEC 60079-1 : 2007
IS/IEC 60529 : 2001
CE Mark :
Conforms with essential requirement of :
Electromagnetic Compatibility Directive 2004/108/EC
Compliance to EN50270:2006
Low voltage Directive 2006/95/EC
Compliance with the IEC 60945 Standard for Marine application
Technical Specifications :
Sensor Information
| | |
| --- | --- |
| Sensor Make | M/S Ambetronics Engineers Private Limited |
| Sensor Model Number | GT-2511-FLP-H2 |
| Type of Detection | Continuous, Diffusion |
| Detection Principle | Semiconductor Type |
| Hydrogen Gas Detection range | 0 to 800 PPM or 0 to 2% V/V |
| Accuracy | ± 5% of Full Scale Range (Sensor, Signal conditioning unit & Display Unit all Combined) |
| Response time | 5-10 Seconds with 800 PPM ( 2% V/V) Hydrogen Gas (Sensor, Signal conditioning unit and Display Unit all Combined ) |
| Display | 8 x 2 alphanumeric LCD with Auto On/Off Backlit Option |
| Indication | LED Indications - Provides status of the sensor operation |
| Settings in Sensor | By Using the Magnetic Pen or Keys i.e. Set/Next, Shift, Increment |
Electrical

Supply Voltage Requirement

18 to 36 VDC, Typically 24 VDC, derived from SCU for fail safe operation.

Power consumption

3.6 Watt max at 24 VDC

Environmental

Design Temperature

10°C To + 45°C (Normal)

10°C To + 60°C (Occasional)

Relative Humidity

55% To 85% (Normal), Non Condensing

95% (Occasional) , Non Condensing
Signal Output & Error Monitoring
| | |
| --- | --- |
| Sensor Output | Industrial Standard 4-20mA current output with configurable Range |
| Load driving capacity | 470 ohms |
| Hydrogen Detection Sensor connection | Current Output will Be 3.7 mA Break /Open & Sensor LCD display will show the |
| Break / Open | Sensor Open |
| Detected H2 gas is maximum than | Current Output will Be 21 mA Sensor Detection Range & Sensor LCD display will |
| Sensor Detection Range | show the 'Over Range' |
Application
Detection of hydrogen
H2 cylinder store room
H2 addition station
Gas Unit
TG seals (Turbine / Exciter end)
H2 dryer area
H2 injection lines in the middle of generator.
Generator Seal Oil Unit
Bus ducts
Control / Electrical battery room/s
PHT System
Battery maintenance shop
Sensor Housing
| | |
| --- | --- |
| Sensor Housing | Explosion Proof, CIMFR ( CMRI) Certificate vide |
| certificate no | CIMFR/TC/S/H480 |
| Sensor Housing Material | Cast Aluminium Alloy LM6 |
| Cable Gland | ¾ Inch. ET, Double Compression Cable Gland, CIMFR ( CMRI) Certificate vide |
| Certificate no | CIMFR/TC/P/H672 |
| Dimension | 185 (H) x 215 (W) x 125 ( D) in mm. |
| Mounting | Wall Mounting |
| Weight | Approx. 2kg |
| Necessary mounting bracket/accessories | Custom built |
| Tag Number / Name Plate | As per customer requirement |