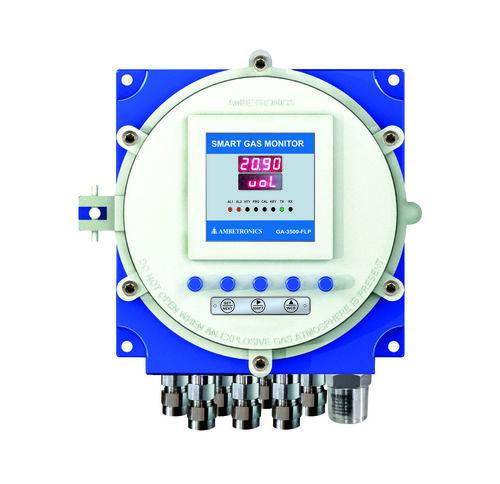 Gas Leak Detector Alarm
Price And Quantity
Product Specifications
230VAC / 50/60Hz

Less than 10 Watt (W)
±2% of Full Scale. %

Digital Only
Product Description
Gas Alarm
Outfitted with swift -response sensors, this Gas Alarm is the toughest product available with high durability and efficiency features. This is ideal to provide real-time happening awareness to the workers, members, supervisors as well as safety managers to make them provision for safety of everyone. Its digital sensors can sense gases faster than the any other products ensure swift result when any gas leakage is detected. In addition, its alarm alerts about the potentially dangerous situations. Its rugged design is developed to withstand high temperate, pressure and other adverse environmental conditions. Moreover, it can also easily tolerate a drop of more than 18 ft. without any abrasion and wear. With simple drive circuit, it ensures load resistant features for years.
Features :
Provides a fast and reliable output by using Electro Chemical / Pellister Sensor Technology.
Optimized for detection of smallest leak of Oxygen, Toxic and Combustible Gases.
Highly resistant to poisoning and etching.
Capable of detecting down to PPM, %LEL & %V/V.
Digital display of Gas Concentration on LED Display for GA-3500, Standard 4-20mA signal output with configurable range.
Easy handling and programming with 3 keys for Weatherproof Models.
Can be programmed using Remote Control from 10 meters in line of site distance.
Non - Intrusive programming for Flameproof model using Magnetic pen.
Password protected programming with password changing facility.
One man Auto Software Gas Calibration.
Optional Alarm relay contacts with two configurable Alarm levels & one Relay for fail safe relay.
Optional STEL and TWA set points can be configured for Toxic Gases.
Optional RS-485 communication port with MODBUS RTU Protocol.
Applications :
Refineries
Cold Storage
Sewage Plants
Fertilizers Plants
Stack Monitoring
Chlorination Plant
Gas Metering skid
Gas Cylinder Bank
Ambient Monitoring
Pulp & Paper Plants
Oil & Gas Industries
Gas Pipeline Project
Gas Metering Station
Heat Treatment Plants
Chemical Storage Area
Control Atmosphere
Burner / Furnace Areas
Power & Industrial Plants
Bullet Yard / Storage Yard
Chemical Processing Plant
Coal Mine and Confined Area
Chemical & Petrochemical Plants
Acid Alkalizes & Dyes Mfg. Plants
Automotive Industries / Paint Shops
Offshore Drilling & Processing Platforms
Technical Specifications :
General :
Detection Method

Electrochemical


Gases Detected

Oxygen / Toxic Gases, Infraread/ Solids tate/Combustible


Display

2-Line, 4-Digit 8 mm (H) Seven Segment LED Display 8 LEDs to indicate status of instrument


Control Action




Two independent alarm set points with Latch & Non-Latch Facility.

User selectable Hysteresis and Logic option.

Configurable STEL and TWA set points for Toxic Gases (Optional)


Setting

By 3 Keys on front panel for WP Model.
Performance :
Accuracy

±2% of Full Scale.

Response Time

T20 < 18 Seconds

T50 < 22 Seconds

T90 < 40 Seconds

Start-up Time

Less than 30 Seconds.
Electrical :
Supply Voltage

18 to 36 VDC, Typically 24 VDC, 230VAC, ±10%

Power Consumption

Less than 3.6 Watts.

Cable

For Weatherproof Model : 3 Wire (1.5 mm2) Flexible Cable.

For Flameproof Model : 3 Core copper wire, Shielde Armored Cable.

R-12 ohm / km per core & C - 0.15mFd per Km & Reactance 0.107 hms / km.

Pannel Mount Housing :
Dimension

Vertical - 96 mm (W) x 194 mm (H) x 213mm (D)

Horizontal - 183 mm (W) x 90 mm (H) x 213 mm (D)

Enclosure

ABS Plastic

Mounting

Panel Mounting

Weight

Approx 1.2 Kg
Weatherproof Housing :
| | |
| --- | --- |
| Protection Class | IP-65 |
| Cabinet Material | Polycarbonate, Grey Colour |
| Cable Entry | Thermoplastic Cable Gland (IP 68) |
| Dimension | 183 mm (H) x 222 mm (W) x 110 mm (D) |
| Mounting | Wall Mounting / Stand Mounting / Pipe Mounting |
| Weight | Approx 1.2kg |
Output Signal :
Standard

4-20mA Current Output with configurable range selection with 470 ohm load driving capacity.

Optional

Three SPDT Relay (one for FailSafe and Two for Alarm indication) of rating.

0 to 10 VDC

Optional

RS-485 isolated Port with MODBUS RTU protocol.protocol.
Error Monitoring :
During Sensor Break / Open, the Display shows & 4-20mA output goes down to 3.7mA. for Combustible gases only.
During Over Range, the Display shows OVER RANGE & 4-20mA output goes up to 21mA.
Environmental :
| | |
| --- | --- |
| Operating Temperature | -15 to +550C |
| Humidity | Less than 95% Non-Condensing. |
Accessories (Optional) :
Certified 24 VDC Power Supply.
Canopy & Stand Mounting.
Gas Calibration Kit (0.5,1,3,10) Litre.
Hooter Cum Flasher.
Gas Sampling & Conditioning System.
RS-485 to USB OR RS-232 Converter.
PC Based SCADA Software, Modem.
Flame proof Housing :
| | |
| --- | --- |
| Protection Class | IP-66 for Gas Gr. IIA, IIB & IIC, CMRI Approved Enclosure, CCOE (Optional) |
| Cabinet Material | Cast Aliminium alloy, LM-6 |
| Cable Entry | Double compression cable gland (Ex-Proof), ET-type |
| Dimension | 220 mm (H) x 220 mm (W) x 150 mm (D) |
| Mounting | Wall Mounting / Stand Mounting / Pipe Mounting |
| Weight | Approx 5.8 Kg. |
Trade Information
Middle East, Australia, Asia

All India