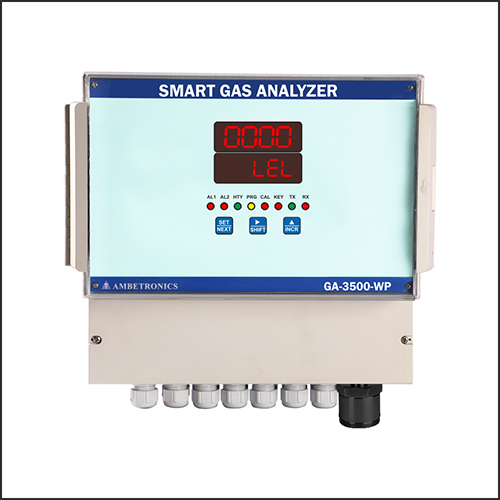 Trace Oxygen Analyzer
Product Description
Description:-
The unit provides suction pump to create sufficient negative pressure. It is based on Electrochemical (Galvanic cell) type measurement method. The flow meter can be used with pressurized sources like gas cylinder or pipeline.
Isolation of Trace sensor can also be achieved. Range selection, Alarms set & Span set facility is provided on front panel. Alarm Output with 0 to 1VDC & 4 to 20mA DC proportional to oxygen concentration is provided at back of Panel. Unit can be wall mounted using brackets.

Salient features:-
Microcontroller based latest accurate, Reliable & High performance technology that eliminates False alarms;
Advanced warning and Dual level Alarm output;
Easy one man calibration at site;
Provides fast and reliable output using Electro chemical sensor technology;
User friendly set parameters facility;
Password protected parameters including Alarm set points;
Settable On time , Off time , Trigger or Cyclic or continuous mode for pump;
Settable Offset , Hysteresis for Alarm
Digital Display of Gas concentration with 4 to 20mA DC & 0-1 VDC isolated recorder outputs.
Applications:-
Oxygen deficiency Prevention
Package boiler combustion control, gas fired
Air/ inert / noble Gases
Combustion air O2 enrichment
Cryogenics
Controlled Gas Environment
Glove boxes
Flue gas analysis
Food and Beverages
High purity gas manufacturer.


Technical Specification
| | |
| --- | --- |
| Application | Measuring low concentration of required gas in PPM range. |
| Brand | Ambetronics |
| Model | OGA-3500-PPM |
| Product Type | Gas Analyzer |
| Display Type | Digital LED Display |
| Automation Grade | Automatic |