Heat Detector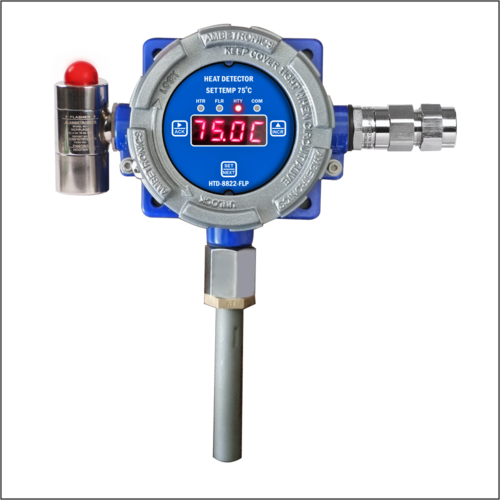 Heat Detector
Price And Quantity
Product Specifications
Gas Detector

Stainless Steel
Product Description
A heat detector is an essential safety device used to detect and alert individuals to the presence of elevated temperatures or rapid changes in temperature within a specific area. Unlike smoke detectors, which identify smoke particles, heat detectors respond to thermal energy and are particularly effective in environments where smoke-based fire detection may not be suitable. Heat detectors play a crucial role in fire prevention and early warning systems, offering reliable and robust protection in various settings, including residential, commercial, and industrial spaces.
Frequently Asked Questions (FAQs):
Q1: How does a heat detector work?
Ans: Heat detectors operate based on a variety of mechanisms, including fixed temperature, rate-of-rise, and combination heat detectors. Fixed temperature heat detectors trigger an alarm when the ambient temperature reaches a predetermined threshold. Rate-of-rise detectors respond to a rapid increase in temperature, sounding an alarm if the temperature rises above a certain rate within a short period. Combination detectors often combine both fixed temperature and rate-of-rise features for enhanced accuracy.
Q2: What are the main types of heat detectors available?
Ans: There are primarily two types of heat detectors:
Fixed Temperature Heat Detectors: These devices activate the alarm when the temperature at the sensor location reaches a specific pre-set level, usually in the range of 135 to 190 degrees Fahrenheit (57 to 88 degrees Celsius).
Rate-of-Rise Heat Detectors: These detectors monitor temperature changes and activate the alarm if the temperature rises rapidly, typically at a rate of 15 to 20 degrees Fahrenheit (8 to 11 degrees Celsius) per minute.
Q3: Where should I install heat detectors in my home or business?
Ans: Heat detectors are best suited for areas where smoke detectors may not function optimally due to dust, fumes, or other factors. Install heat detectors in places like kitchens, garages, boiler rooms, and workshops, where smoke from regular cooking or industrial processes could cause false alarms in smoke detectors.
Q4: Are heat detectors a suitable replacement for smoke detectors?
Ans: Heat detectors should not be considered as a sole replacement for smoke detectors. Both types of detectors serve different purposes. Smoke detectors are highly effective in detecting early-stage fires involving smoke, while heat detectors are better suited for environments with conditions that might interfere with smoke detection or where rapid flaming fires are likely.
Trade Information
Cash on Delivery (COD) Cheque Cash Against Delivery (CAD) Cash Advance (CA)

1 Week
Australia North America South America Eastern Europe Western Europe Middle East Central America Asia Africa

All India
ISO 9001: 2015; CE Certification; CCOE & CMRI Approvals; PESO Tested.