Programmable Data Logger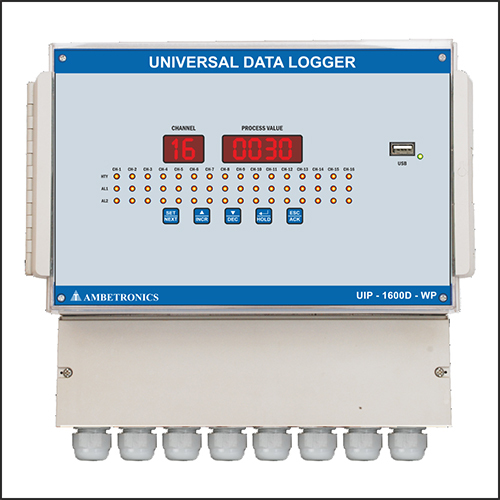 Programmable Data Logger
Price And Quantity
Product Specifications
Multiple Channel Data Logger

LED
Product Description
Our company's name is recognized in the entire industry for manufacturing and exporting highly functional range of Programmable Data Logger. Integrated with technology based on micro controller, these data loggers ensure excellent accuracy. These data loggers can be easily programmed with specific instruction and thus extensively used in foundries and furnaces to get the heat profile. Suitable for data monitoring, our entire stock of products are offered to clients at feasible price range.
Data logging is the process of measuring as well as recording physical or electrical factors of environment, vehicles, structural health, machine condition, etc. This process is used to measure voltage, current, temperature, strain, pressure, force, acceleration and other parameters. Programmable Data Logger is the best device to carry out this process in a cost effective and efficient way. The product can easily connect with different communication options like GRPS, Ethernet, USB, etc. to transfer the logged data to any PC or mobile phone. It has the ability to connect to different signals such as resistance, thermocouples, voltage, current, frequency, etc. With high tech processor, display screen, and peripheral bus, this provides you with accurate and competent performance.

Features
Provided with USB printing port
High level of accuracy
Flexible in instruction

Features of Programmable Data Logger:

Panel Mounting Data Logger Used latest micro controller based technology for better accuracy
16 Channel fixed input for all thermocouple, J, K, R, S, T, E, B, N programmable by users, and Fixed Inputs for RTD (PT-100 / CU53), 4-20mA, 010 VDC factory settable
Easy on-line field calibration by front panel membrane keypad
Field programmable channel scan time 1 to 59 sec., Logging interval 1 to 9999 sec & Printing Interval 5 to 9999 sec.
Field programmable Delay time 1 to 99 sec. for Relay Output
Optional RS-232 / RS-485 Modbus Serial Port
Optional Parallel / USB Printing Port.
APPLICATIONS:

ISO Certification records, Validation process certifying
Pharmaceutical process validation with graph & excel report in Autoclaves
Online profile recording for Oven & BOD, Incubator, Humidity Chamber
Winding temperature of generators, Bearings, motors, transformers
To know heat Profile in furnace, foundries for Heat treatment application
Primary & auxiliary temperature scanning of boiler
Chemical & Hazardous area where data monitoring is essential
Room Mapping in Pharmaceutical.